If you have been wondering "can you vinyl wrap over faded paint?" because the sun's UV rays have done a number on your vehicle, the answer is yes! Besides covering up surface imperfections and providing some protection to your paint, vinyl wraps can have amazing designs that are not possible with traditional paint jobs.  
Vinyl wraps can be designed to be anything from matte black to zebra stripes to business logos with high resolution images. You do not have to solely rely on the experts when designing your vehicle's vinyl wraps. Instead, you can have a very large say in the designing process. The following are 4 ways to design your own wrap for your vehicle:
1)
Have a Professional Bring Your Design Idea to Life
The first option is for you to bring your design idea to a professional to bring it to life. Companies like WrapStock offer a custom design process where you inform them of what it is you want your vinyl wrap to look like, and they make it for you. With this option you are able to utilize your imagination even if you do not have the skill set to create the wrap design yourself.
At this particular company, you first express your ideas and design desires, and then they use technology and their artistry to make your ideas real over a span of two weeks. When they have the finished product in hand, they send you a link that brings you to the print data for download. Finally, you bring this print data to the shop you intend to have wrap your vehicle such as StickerCity.
2)
Create a Mock-up
The next option is to create your own mock-up, which can be done on the internet, before having a professional work on the final product. A mock-up is a scale model of a design used in the manufacturing and design industry to get an accurate visual representation of an idea. This can be very useful when trying to make your custom vinyl wrap.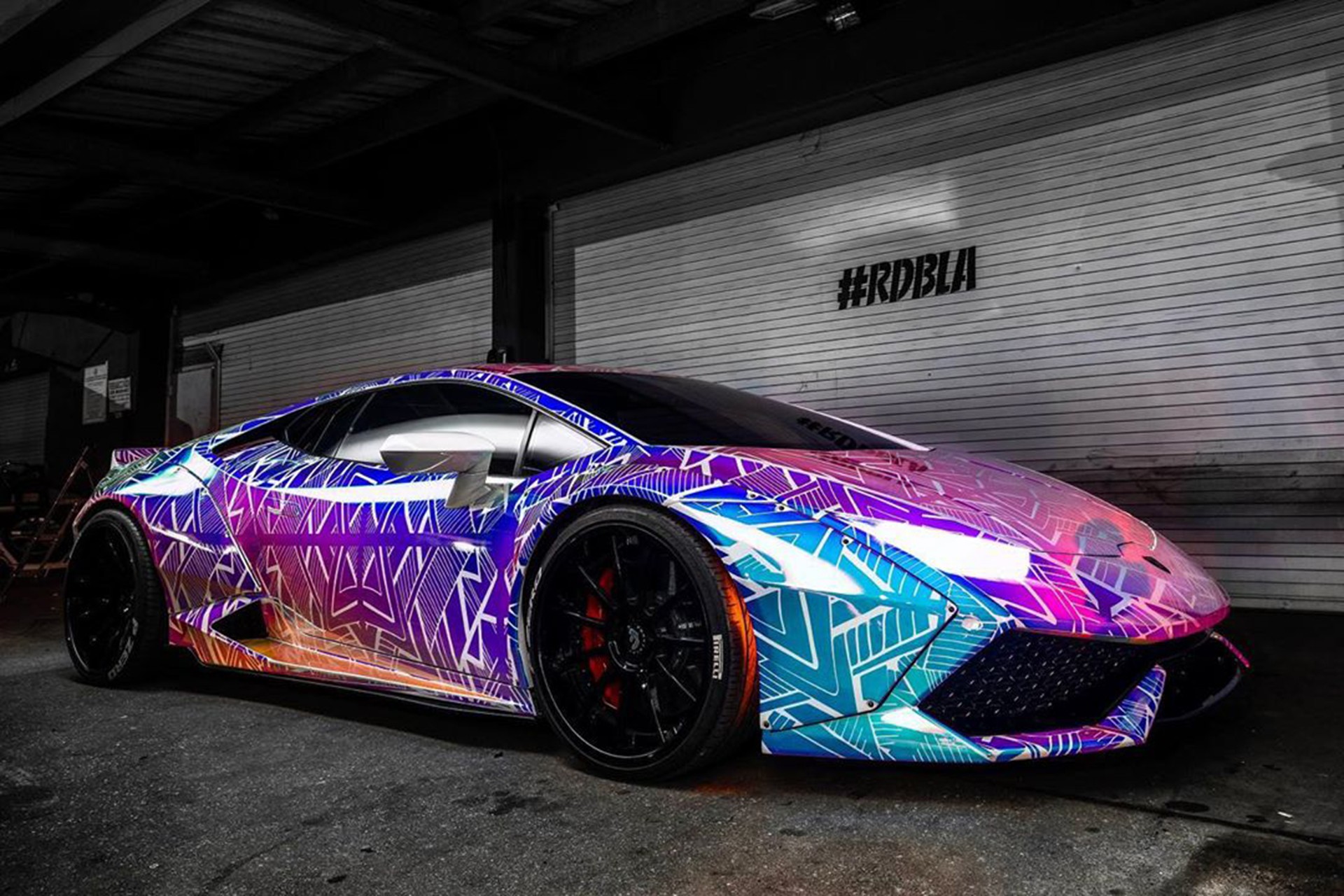 At Custom Car Wraps,  you start by choosing a vehicle model that is closest to the vehicle you intend to have wrapped. Next, you will have the option to change the background color, incorporate a background color fade, apply background images, apply forefront images, and insert text before previewing. Once you are happy with your mock-up, it is sent off to a professional who will recreate your design to ensure you get the best print resolution and appearance. This method is often better than just describing what you would like because it gives a visual representation to ensure both you and the professional are on the same page.
After they are done, they will provide you with the print data which you can then bring to a shop to have your vehicle wrapped. Be sure to keep in mind that even if your design idea and print data are great, it will not come out well if you do not go to an experienced shop to have the wrap installed. Here at StickerCity, for example, we are experts in vehicle wrapping and have won awards by a panel of international judges for wrapping ability.
3)
Use Graphic Design Software
If you want to make your design from scratch without any outside assistance, you can always use a graphic design software to bring your ideas to light. One of the good graphic design software for vehicle vinyl wraps is CorelDraw Graphics Suite 2021.
After CorelDraw is purchased and installed on your computer, the first thing to do is to get a template and format it in accordance with the vehicle you want to wrap's specs. This template will include all four sides. When doing this, make sure that the flat distance between the wheels on the template matches the vehicle in question. This is because it is the easiest to measure accurately.
Next while using CorelDraw Graphics Suite, you will create a PowerClip that will define a boundary for your vinyl wrap. Once this is completed, you can begin entering elements that you want on your vinyl wrap and placing them exactly where you want them. Finally, you will place all of the elements and PowerClip onto its own layer and save it as an EPS or PDF. Make sure to find out which file type is preferred by the shop who will need the print data to wrap your vehicle.
4)
Choose a Stock Design
Lastly, you can decide to choose from a stock design. Despite the fact that they are premade, there are thousands of unique options available. WrapStock, for example, has hundreds of options to choose from, with many different categories available. These categories of designs include a category for females, luxury designs, vintage styled designs, urban designs, racing designs, characters, animal designs, and camouflage designs, among others. Choosing this option is significantly cheaper than having a professional recreate your design idea or buying software, coming in around $50 for the print data.
Some design companies also save the custom designs made by their customers and you can purchase these designs for your vehicle's wrap. You may just find one that is the perfect fit for you, even if there is one person out there somewhere with the same print data as you.
Wrapping Up
Designing your own vinyl wrap can be very rewarding. For one, vinyl wraps are one of the 5 ways to make your car exterior look new, covering up any blemishes your paint may have. Secondly, it can bring your imagination to life, giving your vehicle a presence that just would not be feasible with a traditional paint job.
There are a few options available if you want to design your own wrap. One option is to tell a professional designer what you want and have them put your idea to work for you. Alternatively, you could create a mock-up of your design so that way the designer knows exactly what it is you want and how you want your vinyl wrap to look. Lastly, you can purchase graphic design software and create your design from scratch.
For more information on vinyl wraps and some samples of our work, click this link.
Additionally, here's a full list of the services we provide.  Did you enjoy this article? Check out our blog. Have questions? Contact us.