Regardless of if you are a local who is bored on a Tuesday or if you are just visiting Los Angeles and have a free evening, there is something for you to do! Unlike many towns around the United States, Los Angeles does not go to sleep when the sun goes down.
There may be few car related activities in Los Angeles at nighttime, but there are more than enough to keep you entertained, from viewing the cosmos to listening to an up and coming rock band. Below you can find 5 of the best places to travel to by car in Los Angeles to have a fantastic evening:
1)
Griffith Observatory
Located at 2800 East Observatory Road, Los Angeles, the Griffith Observatory is a great place to go in the evening, since it is easier to see planets and other astronomical observations after dark.
Looking to the stars is not the only sight to behold at the Griffith Observatory, with it providing an amazing view of the city's skyline. You can also see the Hollywood Sign, but it is not well illuminated at night.  
The Griffith Observatory is open between noon and 10 p.m. on Tuesday through Friday, and between 10 a.m. and 10 p.m. on Saturday and Sunday. They are not open on Monday. At nighttime one of the best things to do while at the Griffith Observatory is to explore the Samuel Oschin Planetarium where several exhibits and shows are held or visit the public telescopes such as the Zeiss telescope. View the moon, nearby planets, and other space curiosities in more clarity than you have likely seen before!
2)
Universal City Walk
Another option for an evening out in Los Angeles is Universal's City Walk. Although Universal City Walk is not completely open due to the coronavirus pandemic, there is still a lot to do. Universal Cinema is open at Universal City Walk, with its 7 story IMAX with LASER theater for all of your movie needs.
Restaurants for all tastes are open with additional outdoor seating and limited indoor capacity, as well as stores in an open shopping environment. There are a wide range of stores to shop at, with Abercrombie & Fitch, LIDS, Tilly's, and Sephora meeting your clothing and make-up needs, while Things from Another World houses all sorts of unusual finds. This includes everything from Sci-Fi merchandise, comics, collectibles, and movie memorabilia.
To ensure that visitors are safe, Universal City Walk has temperature screenings, improved sanitation, and enforce physical distancing. These precautions make Universal City Walk one of the fun things to do in LA during COVID. In the future, these restrictions and protections will be lifted once the pandemic is better under control.
3)
Sunset Strip
If you are looking for an exciting, later, more adult oriented nighttime activities, visiting the iconic Sunset Strip is the perfect option for you. This stretch of Sunset Boulevard in West Hollywood spans 1.6 miles and has establishments ranging from rock n' roll clubs, to upscale bars, to comedy clubs and continue operating late into the night and morning.
If you are looking for some live music, the Viper Room or Whisky a Go Go are two rock clubs worth checking out. If you are just trying to get some drinks and loosen up, Then Den on Sunset, Bar Marmont, and Rock and Reilly's Irish Pub are available. If instead of music and alcohol you want to lighten up with comedy, the Sunset Strip is home to both the Comedy Store and The Laugh Factory.  Every inch of this stretch of road has something interesting to experience.
4)
Pacific Park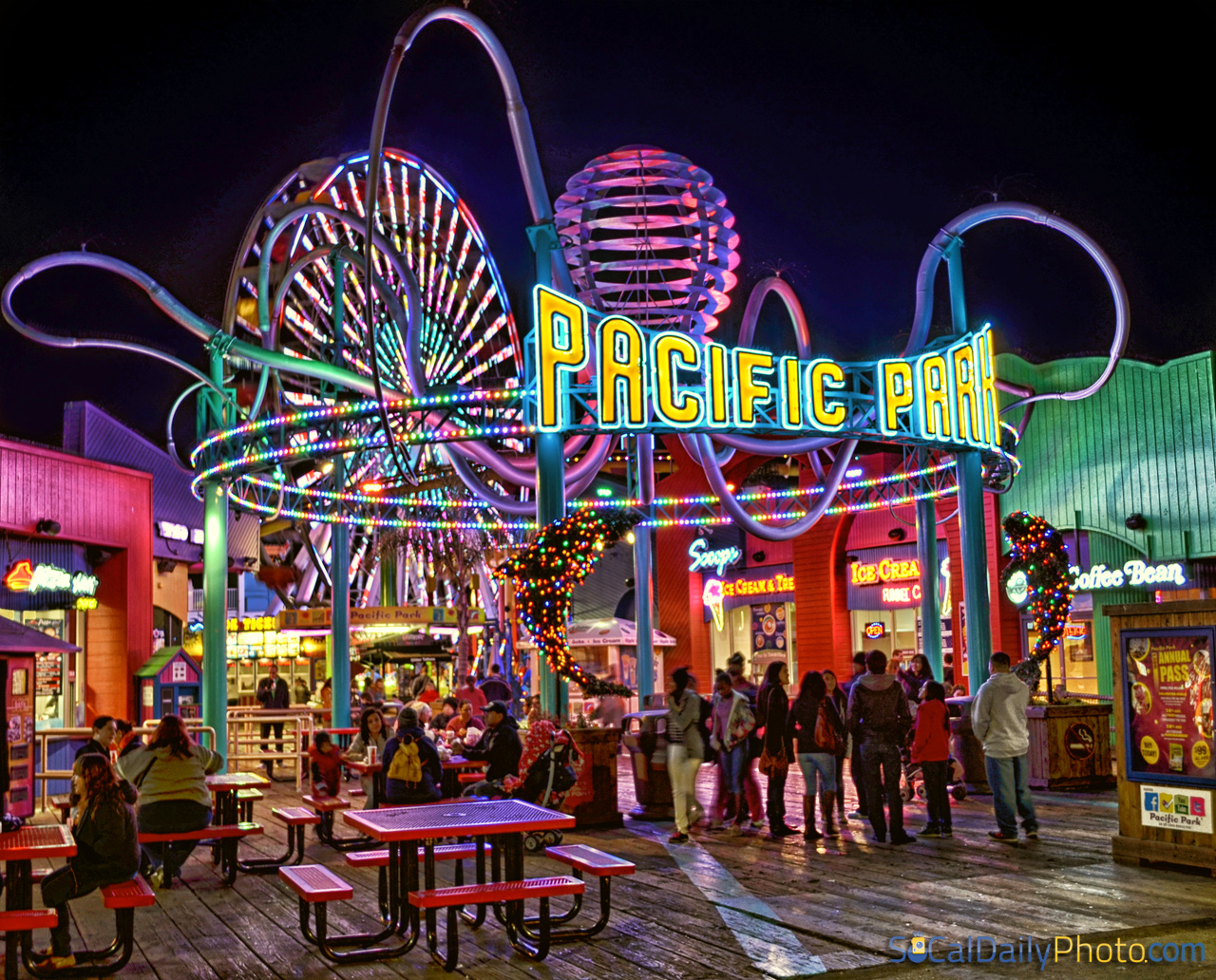 The Santa Monica Pier, located in Lot 1 North at 1550 Appian Way, Santa Monica, is home to the Pacific Park amusement park providing fun for the entire family. With rides, shopping, and restaurants, every member of your family can be satisfied with their experience. Rides include the Pacific Wheel, the West Coaster, the Sea Dragon, Inkie's Scramblers, the Pacific Plunge, and many more.
After browsing the stores and getting a bite to eat, you can also visit the Santa Monica beach, which is located both north and south of the Santa Monica Pier. There is little better than relaxing on the white sand listening to the waves, with the view of the Pacific Park lit up in the background.
5)
Queen Mary Ship
The Queen Mary Ship is a retired British ocean liner located at 1126 Queens Highway, Long Beach, that is deemed one of the world's most haunted ships, and one of the most haunted locations in the United states. Even if you are not interested in the paranormal, the history of the ship itself is fascinating and a joy to explore.
There are several different things you can do at the Queen Mary Ship, one of which is to Dine at Sir Winson's Restaurant and Lounge where you get upscale dining experience before going on a guided tour. Alternatively, you can go on the Paranormal Ship Walk which includes an in depth delve into the ships history before getting to experience the reportedly haunted areas of the ship. You can also team up with the resident paranormal investigators. Doing so, not only do you get to be part of a real paranormal investigation, but you can also gain access to areas of the ship that the general public is not permitted to go.
Where to Go by Car in LA at Night
Los Angeles has no shortage of places to go and things to experience. If you are looking to have fun with the family, Universal City Walk or the Pacific Park on the Santa Monica Pier are good options. If you would like to explore and learn, the Queen Mary Ship and the Griffith Observatory can provide you a great evening. Lastly, you can always go to the Sunset Strip to have a wild night out, drink, listen to music, and see hilarious comedians. 
If you live in LA and love your car, here's a full list of the services we provide.  Did you enjoy this article? Check out our blog. Have questions? Contact us.