Going to the Peterson Automotive Museum is one of the fun car related activities you can do in Los Angeles . This fantastic museum has a lot to offer, housing one of the largest automotive collections on the globe. Located along Museum Row in the Miracle Mile neighborhood of Los Angeles, this nonprofit organization focusing on automotive history and education has something to offer for everyone of all ages! The following are 5 interesting things you did not know about the Petersen Automotive Museum:
1)
Teaching the Youth
Petersen Automotive Museum goes above and beyond to assist in the education of the next generation. On top of the educative nature of the museum itself, Petersen Automotive Museum has developed lesson plans for kindergarten to grade 12 teachers that can be incorporated into California's Curriculum Standards. The lesson plans devised by Peterson Automotive Museum uses the automobile and its history as a tool for learning concepts related to history, art, and STEM related fields.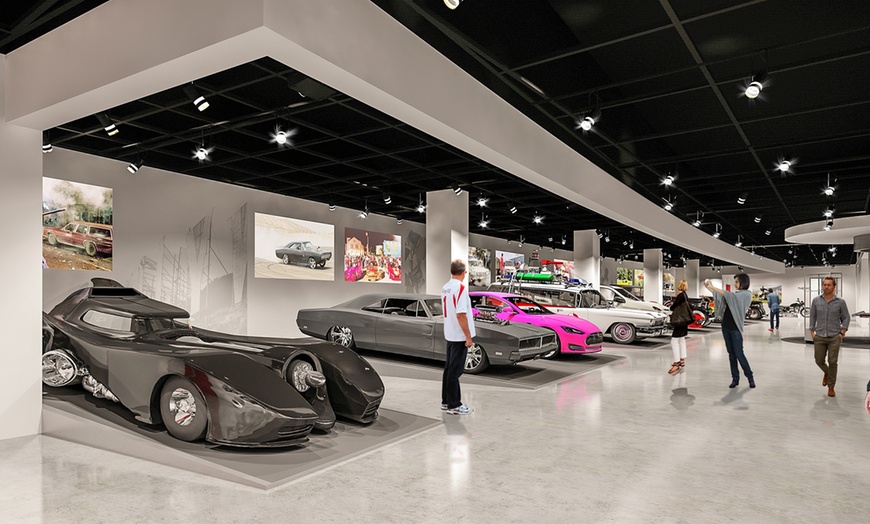 The lesson plan for kindergarten through second grade is called "Kids on the Move", and third through fifth grade focuses on local, state, and national history of the automobile. For children between sixth and eighth grade, the lesson plan is titled "Manufacturing Mobility", and for high school students "Driven by Design" applies significantly more advanced concepts. Through these lesson plans, children can learn how concepts apply to real life and keep them interested in otherwise dry or complex material.
Because Petersen Automotive Museum wants all youth to have the opportunity to learn and experience what they have to offer, then provide field trips for various local K-12 schools, with over 25,000 students who qualify for free lunches at school getting free admission. Every year they also pick 15 students from across California to take part in their Teen Auto Workshop class at no cost whatsoever.
2)
Virtual Options Are Available
If you are trying to stay safe during the SARS-COV-2 pandemic and are trying not to go on unnecessary trips in public, or if you are not anywhere near Los Angeles, it is still possible for you to experience the Petersen Automotive Museum through virtual options. There are even virtual tours available, guided by museum educators to give you the best experience possible with out being there physically.
On top of virtual guided tours, events also are hosted virtually. For example, the upcoming Japanese Car Cruise-In is both in person and virtual, just like most of their events. Finally, there are educational video lessons available on their website including the lessons "The Car and Civil Rights", "The Birth of the Car", "Production – Everything You Need to Know", "Aerodynamics – Everything You Need to Know", and "Roads – Everything You Need to Know".
3)
Role of Donations
Being a non-profit organization, Petersen Automotive Museum relies heavily on donations from the community. Businesses partner with the museum and donate to it, and individuals do as well. Monetary donations play a big role in developing exhibits and education programs, digitalizing the museums archive so that the public can view it remotely and keep it preserved over time, and maintain this humongous museum.
Even a large number of their vehicles have been donated to them for restoration and exhibit purposes. In fact, over the last 3 years, the Petersen Automotive Museum has received more than 100 vehicles through donations. They also accept artifacts and automobilia to help expand their collection and add to the stories and knowledge that can be passed down to future generations.
4)
Petersen Store
The Petersen Automotive Museum also houses the Petersen Store which carries a surprising number of items. From men's, women's, and kid's apparel, to headwear, outdoor wear, and accessories, you could get half of your wardrobe here if you wanted to. They even have wallets, belts, and an entire sock collection. Outside of clothing this store has many other categories of items such as model cars, art, and children's toys.
They have a wide range of model cars available for purchase including 1:18, 1:24, 1:48, and 1:64 scale models and Disney Pixar model cars. Some of their model vehicles are even remote controlled. Hot wheels cars, action figures, replica license plates, posters, prints, tin signs, and books are also here. Their push and pedal cars for children might be the most impressive, giving your young child the perfect toy they will actually use.
With items like Ferrari white leather iPhone cases, it would be impossible to list everything at the Petersen Store, you will just have to check it out for yourself. You can also search through their online catalog and order for curbside pickup, making it one more fun thing to do in LA during COVID.
5)
The Vault
The Petersen Automotive Museum has many exhibits including "Supercars", "Hollywood Dream Machines", "Redefining Performance", "Reclaimed Rust", "Building an Electric Future", "Fast Tracks to Success" and more. With how many exhibits and educational programs that are available at Petersen Automotive Museum it is hard to imagine that they have more to offer but there is. The Vault, in cooperation with Hagerty, homes more than 250 vehicles that are not available for view during guided tours or through membership with the Petersen Automotive Museum.
The vehicles included in The Vault come from all over the world and start from the birth of the automobile and go all the way to the most current supercars.
You could even get ideas on how to wrap your vehicle like a celebrity's car based on all of the personal rides of Hollywood celebrities that you will see in The Vault. Everything from vehicles that made a mark in history through who owned it, to vehicles that made a mark in history because of its innovation is here for your viewing. Some vehicles included are the 1939 Shah Bugatti and the 1947 Ferrari 125S.
If you have already gone on a guided or self-guided tour at the Petersen Museum, or you want to get the full experience, definitely buy tickets to gain access to The Vault. Here there are many vehicles and automobilia that you will likely never see otherwise. 
After visiting the museum, don't forget to check out Sticker City, here's a full list of the services we provide.  Did you enjoy this article? Check out our blog. Have questions? Contact us.