No matter how badly we want our vehicles to look new forever, the contact with road debris, the beating from the elements, and the sun's rays has another idea. Luckily, there are steps you can take to make your vehicle's exterior look like new, as well as keep it looking that way! The following are five ways to make your car exterior look new:
1)
Polishing and Waxing
Vehicle polish comes in different abrasiveness, and is used to buff out swirl marks, very minor scratches, and oxidation by removing the tiniest layer of your paint so that blemishes blend in with the paint around it. Polishing is a great idea if you are trying to minimize minor imperfections.
Your vehicle should only be polished once a year, if that, since it is removing some of your paint even though it is only a tiny amount. Wax hides blemishes by filling in the imperfections with a protective material such as carnauba, effectively smoothing out your vehicle's paint job. On top of that, it can help protect your vehicle from further damage and will give it a beautiful glossy appearance.
There are many different types of wax on the market, all with a different quality and meant for different looks.
If you are have paint protection film installed, you should not polish your vehicle as it can damage your paint protection film.  On the other hand, if you just like to wax your vehicle for the sake of doing it, you may be wondering "can you wax XPEL paint protection film?", the answer is yes but you must be careful of its ingredients.
2)
Paint Job and Paint Repair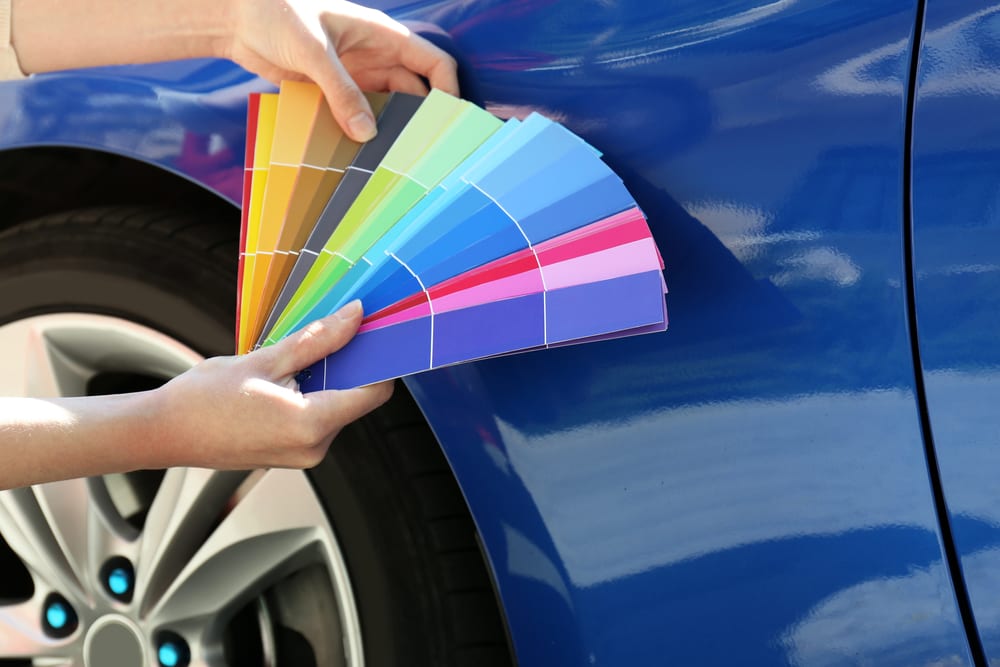 If your paint is too damaged for polishing and waxing to work, you may need to have your paint repaired, or you may opt to have it completely redone. Repainting your vehicle will not only allow you to get rid of unsightly blemishes and scratches, but it will also allow you to choose any color and finish that you want, with many places mixing paint to your exact taste.
Even if your paint is still in factory condition, there are ways that paint can be used to give your vehicle a new look. For example, you could have your brake calipers painted, powder coated, or have covers installed to give your vehicle a little extra pizzazz. You could also have only a portion of you vehicle, such as your roof, painted, which is one of the car trends in Los Angeles right now.
3)
Have Your Vehicle Professionally Detailed
If you do not want to go through all of the trouble and physical labor of waxing and polishing your own vehicle, or you are unsatisfied with the results you accomplished, having your vehicle professionally detailed can help. When the exterior of your vehicle is detailed, first your vehicle will be thoroughly cleaned to get any dirt, dust, and contaminants off of your vehicle's paint, chrome, and trim. Professional detailers may use surfactants, detergents, paint friendly degreasers, and detail clay in this process. Your vehicle will be polished to resurface your paint and to remove microscopic debris imbedded in your paint that made it lose its luster. Next, your glossy factory finish will be enhanced, usually through the use of a paint with a glossy finish.
Not only will your paint be revamped, your vehicle's tires and plastic trim will be cleaned and made to look brand new. Many detailers also offer interior detailing, which may be a good idea while you are there. Interior detailing usually includes cleaning as well as removing upholstery stains, and polishing nonporous surfaces of your interior.
4)
Vinyl Wrap
A cheaper option than having your vehicle repainted that still allows you to cover up paint imperfections or faded paint is having your vehicle vinyl wrapped. If you have severe damage to your vehicle's paint, though, you will need to get that fixed before you have your car vinyl wrapped. Vinyl wrap is incredibly thin, so if the scratches on your vehicle are deep enough that you can feel them when you run your fingernail over them, they probably need to be filled in first.
One of the best advantages of vinyl wrap is that the options are limitless when it comes to color and pattern. You could get something stealth and sleek like a glossy black, or an exotic color or pattern. There are even vinyl wraps that are made to have the appearance of all different animal prints and carbon fiber. Vinyl wraps are also a good idea if you want to do advertise your company with the option to remove it later.
If installed by a reputable installed, vinyl wraps are easy for a professional to remove and will leave your underlying paint in the condition it was in before the vinyl wrap was applied. This means you will not have to worry about how to sell a modified car in California because you can bring your vehicle back to its factory appearance.
You do not have to have your entire vehicle wrapped, if you don't want. You can have just some of your vehicle wrapped such as the chrome parts of your vehicle. Often times, the chrome does not highlight a vehicle's paint and does not do it justice. You can improve the appearance of your vehicle simply by getting chrome deletes. Chrome deletes are where your chrome is "deleted" by using vinyl wrap that is the color of the rest of your vehicle to cover them.
5)
Paint Protection Film
Although paint protection film is primarily used to protect your vehicle's paint from dents, dings, scrapes, and scratches, it can also enhance the appearance of your paint. For example, XPEL ULTIMATE PLUS Paint Protection Film is virtually invisible to the naked eye, yet at the same time it enhances and restores your vehicle's gloss finish so that it looks sleek and luxurious.
If your vehicle has a matte finish, XPEL's Stealth Paint Protection Film is the paint protection film for you. Matte finishes are more difficult to repair and to keep in tip top shape. This paint protection film can make your vehicle look flawless, while maintaining its underlying matte finish.
On top of paint protection film helping to get your vehicle looking new again, it will prevent it from aging or becoming damaged. Not only does it act as a barrier between your vehicle's paint and the outside world, it also is self-healing itself. If your paint protection film gets a ding, just leave your vehicle parked in the sun and it will melt back into shape, having smooth, perfect paint again. 
For more information on vinyl wraps, click here, otherwise here's a full list of the services we provide.  Did you enjoy this article? Check out our blog. Have questions? Contact us.