Waxing your vehicle can be very beneficial for a vehicle with unprotected paint but does not do much if you have a vehicle with XPEL's Paint Protection Film installed.
If waxing your vehicle is something you just enjoy and want to continue doing regardless of if it is needed, you can as long as you take some special precautions.
This article outlines if wax is recommended on a vehicle with XPEL installed, what waxes can be used, and what other measures can be taken to prolong the longevity of your paint protection film.
Do You Need to Wax Your Vehicle with XPEL Installed?
There is not a single reason as to why you would have to wax your vehicle after you have XPEL Paint Protection Film installed. It is actually one of the ways paint protection film is so easy to maintain. No waxing is required or even recommended!
The rest of the maintenance is much like it is for a vehicle that is not protected with XPEL's paint protection film: wash with soap and water and get contaminants off as soon as possible!
You do not need to use wax to get a glossy look either. XPEL's revolutionary paint protection film looks as if it has been waxed 24/7, 365 days a year.
It doesn't matter if you have a McLaren 675LT with a full body XPEL Ultimate Clear Bra or only have part of your family vehicle protected by XPEL, we all want our vehicles to look it's best while being protected from dings and scratches.
Luckily, no extra steps are required to keep your paint protection film looking beautiful.
On a vehicle without paint protection film or ceramic coating, wax is used to prevent scratches, keeping dirt away from your paint, making your vehicle look glossy, and even to help your vehicle be easier to clean. With XPEL, all of these things are already covered for you. You do not need to rely on wax for either shielding or aesthetic purposes.
What Waxes Can I use?
If you insist on waxing your vehicle with paint protection film even though it is not needed, you can do so as long as you pay attention to the ingredients in the wax. You want to stay away from any solvents that may break down the adhesive that holds the paint protection film flush against your paint. This could lead to it peeling up or otherwise being damaged.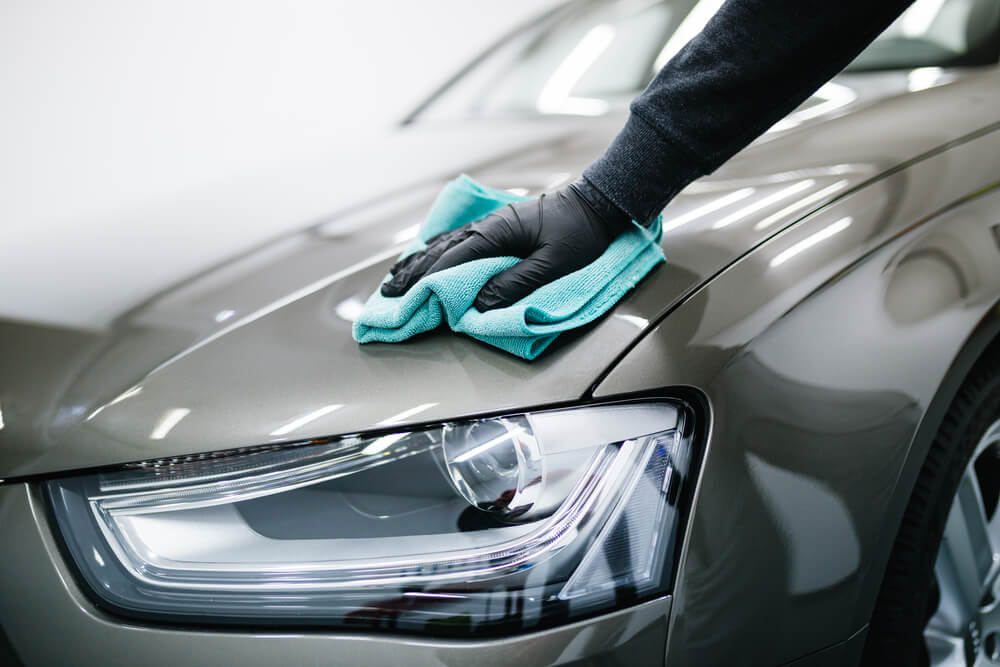 You also need to keep away from any abrasive ingredients that may wear away at your paint protection film along with any dyes.
Dyes and other pigments in the wax can easily stain your paint protection film, making it lose its invisibility.
If you are not confident about figuring out for yourself which products are safe, ask a reputable XPEL installer like StickerCity in Los Angeles and they should be able to point you in the right direction.
Two chemicals to be especially careful about is naphtha and kerosene. Both of these chemicals can break down your paint protection film along with making it become discolored and losing its glossiness. Do not ever use a wax with 5% or more of either naphtha or kerosene and avoid them altogether if at all possible.
Another consideration when waxing your vehicle is what you are applicating the wax with.
This is not the time to compromise. Use the appropriate applicators and not some rough rag you found in the garage.
Is There Anything I Can Do to Maintain the Appearance and Ability of My Paint Protection Film?
XPEL's paint protection film has a 10 year warranty that covers everything from delaminating to discoloration. This very long stability is one of the things that makes XPEL stand out against its competitors. Despite this, there are some steps you can take to try to keep your XPEL paint protection film in tip-top shape.
Instead of using wax that provides only a negligible amount of protection, it is advised that you apply XPEL's Paint Protection Film Sealant at least once every three months if you want the most out of your paint protection film. For maximum protection, XPEL suggests monthly applications.
XPEL's Film Sealant is made specifically for the materials used in the creation of your paint protection film unlike other products including polishes and waxes.
It is an acrylic polymer that hardens into the pores of your paint protection film when it is exposed to ultraviolet light – the sun. Even though XPEL is great at keeping contaminants away from your vehicle's paint, this sealant keeps out 90% of the remaining tiny bit that gets through.
If you are looking for the ultimate level of protection for your vehicle's paint, applying ceramic coating over your paint protection film may be an option for you.  Ceramic coating can enhance the appearance and functionality of your paint protection film by providing ultraviolet protection, keeping your underlying paint from fading.
Ceramic coating can also protect against oxidization damaging any plastic or trim on your vehicle and provides your entire vehicle with an outstanding shine that will amaze everyone.
It also does an even better job at making washing your vehicle easier than wax ever did. It is able to repel both water and oil, and anything that contains either.
This means mud, bug entrails, and motor oil will all bead up on your vehicle's paint and roll off if it has ceramic coating installed over top of your paint protection film.
Wrapping Up
The short answer to if you can wax XPEL's paint protection film is yes. Keep in mind though, that a good portion of the waxes and polishes on the market contain ingredients that can severely damage or completely ruin your paint protection film. If you consider the limited benefit of waxing a vehicle with paint protection film installed, it is not really worth the risk.
If you do decide to wax your protected paint, make sure that the wax does not contain any solvents, dyes, abrasive ingredients, naphtha, or kerosene. Alternatively, you can use XPEL's Paint Protection Film Sealant to keep your paint protection film looking amazing and working great or have XPEL's ceramic coating applied overtop. 
For more info, here's a full list of the services we provide.  Did you enjoy this article? Check out our blog. Have questions? Contact us.