For many people, us included, our vehicles are one of our prized possessions. Because of this, vehicle protection products such as ceramic coating and paint protection films are a top priority for many. One of the disadvantages of products like paint protection film is that they are not really suitable for protecting your vehicle's undercarriage leading to vehicle owners looking at other options.
Rust-oleum and Plasti Dip are two products that are meant to protect surfaces from things like moisture, acids, abrasions, and rust. Of course, no two products are created equal. Here we will go over both products and which is best for shielding your vehicle's underside from the hazards of the road.
Purpose
Plasti Dip Multi-Purpose Rubber Coating was the first flexible, removable, air-drying rubber coating that can be used on a wide rage of projects. Once coated with this product, the item becomes protected against scratches, rust, slipping/skidding, and acid, and grip is significantly improved. Rust-oleum Undercoating provides similar protection.
With Rust-oleum Undercoating, the surface will be protected against moisture, rust, abrasions, and contaminants such as street salt and chemicals. Additionally, the rubbery finish can deaden noise from the road while you are driving.
Appropriate Uses
Plasti Dip Multi-Purpose Rubber coating is appropriate for many different tasks, ranging from home improvement to car customization, to adding grip to your garden tool's handles. This product is made to be easily removable, peeling off leaving the surface in perfect condition. This may not be the best option for a surface like your vehicle's underside where accidental peeling may occur.
Rust-oleum Undercoating is made specifically for shielding your vehicle's undercarriage, wheel wells, and quarter panels with black, rubberized coating. It is meant to prevent damage from road debris, moisture, rust, and chemicals that may get sprayed up onto your vehicle's underside. This product explicitly states that is meant for trailers, cars, trucks, and recreational vehicles, leaving no doubt that they considered the suitability for this application.
Although there are Plasti Dip products that are meant for automotive applications, such as Plasti Dip Automotive Spray and Plasti Dip 50, there are many regulations that can make this option not appropriate. For example, Plasti Dip Automotive Spray can not be used for personal use in Arizona, California, Rhode Island, and Tennessee, and it can not be used for professional use by dealers, body paint shops, or fleet repair in Arizona, California, Rhode Island, Delaware, Maine, Maryland, New Jersey, Texas, Utah, and more. With all of the driving laws in 2021 in California, it shouldn't be a surprise that even Plasti Dip 50 is restricted and can be used everywhere, except for the California counties El Dorado, Colusa, and Glenn, as well as the Bay area.
Color Choices
Although color options are not likely to be a priority because your undercarriage is rarely viewed by others, it is worth mentioning that Plasti Dip Multi-Purpose Rubber Coating has far superior color options than Rust-oleum. With around 50 different color options, there is definitely something for everyone out there.
Rust-oleum Undercoating comes in black and only black. If you do not want black for underneath your vehicle, Rust-oleum Undercoating can be painted for a custom finish if you would like.
Ease of Use
Application of Plasti Dip and Rust-oleum both start with thorough cleaning. All gunk, oil, wax, loose rust, and dirt should be removed from your vehicle's undercarriage before either product is applied. Plasti Dip Multi-Purpose Rubber Coating can be applied either by brushing, spraying, or dipping. It is not feasible to dip your vehicle's undercarriage so we will focus on brushing and spraying.
When brushing on Plasti Dip, you want to make sure that you are not in the direct sun, high humidity, or breezy conditions while still ensuring proper ventilation. To get a thin enough product, you will have to dilute the Plasti Dip with 10% – 20% naphtha. Then, you simply brush it on using heavy coats, avoiding brushing back and forth.
The instructions for using Plasti Dip Multi-Purpose Rubber Coating in an aerosol can and Rust-oleum Undercoating is similar. You will need to ensure that you are not in direct sunlight, or high humidity for best results. Then you begin by shaking the can gently and thoroughly for 1 minute after you hear the ball inside the can begin to rattle. Next, using even back and forth strokes, overlapping slightly as you go, cover the surface until you get an even wet appearance.
There are some differences between spraying both products on though. For example, Rust-oleum Undercoating has an advanced spray system to spray at any angle, even upside down, for hard-to-reach areas, and has a wider finger pad so that your finger will not start hurting or getting weak while spraying. Additionally, Plasti Dip Multi-Purpose Spray can should be held 6-10" away from the surface, whereas Rust-oleum should be held 12-16" away from the surface.
Plasti Dip Automotive Spray and Plasti Dip 50 Application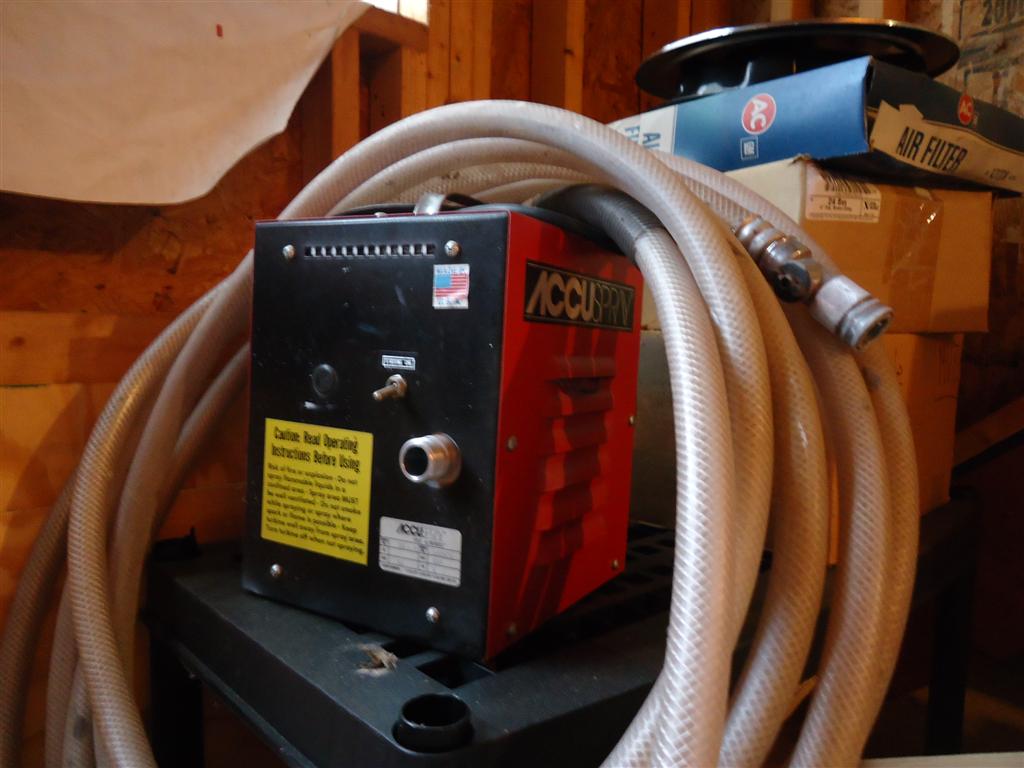 Not only is Plasti Dip Automotive Spray and Plasti Dip 50 restricted in many areas, but it is also not suitable for home use. Unlike with Plasti Dip Multi-Purpose Rubber Coating which has an aerosol can option, or Rust-oleum Undercoating which always comes in a can, Plasti Dip Automotive Spray and Plasti Dip 50 comes in gallon containers and must be used with a turbine style HVLP compliant electric paint gun.
The same temperature, humidity, and ventilation requirements apply for this product, but 5 coats are needed to get to the 10 mil minimum thickness for best performance, with a 4 hour cure time between coats. Although Plasti Dip Multi-Purpose Rubber Coating comes in many different colors, the Automotive Spray and Plasti Dip 50 only come in black, white, gunmetal grey, and clear.   
Coats and Dry Time
Plasti Dip Multi-Purpose Rubber Coating takes between 3 and 4 coats on average. Between coats you should allow for a 30-minute dry time. Once a sufficient number of coats have been applied, it should be dry to the touch within 4 hours, though waiting longer is advisable before driving.
Rustoleum Undercoating takes the fact this is being applied to the underside of vehicles into consideration and requires 24 hours for the coating to fully cure for driving. This said, you only need to wait 1 or 2 minutes in between coats so you can get the spraying portion finished up as quickly as possible. This product only needs 2 or 3 coats (usually 2) and is dry enough to handle after 30 minutes.
Wrapping Up
One of the ways to make your car exterior look new is to prevent it from getting damaged in the first place.  Protecting your vehicle's undercarriage can help to maintain your vehicle, and rubberized coatings are a good call. Although Plasti Dip Automotive Spray and Plasti Dip 50 can do a good job, it needs professionally equipment and is prohibited in many areas. Rust-oleum, on the other hand, is not prohibited for use and is meant specifically for your vehicle's undercarriage, being able to be applied with an aerosol can. Best of all, it will not peel off like Plasti Dip Multi-Purpose Rubber Coating!
For more information on how to make your car look awesome here's a full list of the services we provide.  Did you enjoy this article? Check out our blog. Have questions? Contact us.