Whether you like working on cars or enjoy modifying your vehicle with the help of professionals, staying on top of customization trends is a surefire way to establish your status as a self-proclaimed car enthusiast. 
With 2020 almost halfway through, it is high time for us to explore what we can do in terms of adopting the year's biggest auto trends. 
This thought perhaps resonates the most with people in Los Angeles, which is going under extensive physical distancing measures in the face of coronavirus (COVID-19). With social distancing requirements bringing plenty of free time to our lives, there's no better time to try some customization, is there?
With this in mind, let's go ahead and discover the top 10 vehicle customization trends that are all the rage in Los Angeles.
1. Dash Cams
With safety ranking front and center for many people, the increasing focus on dash cams doesn't come as a surprise. From recording accidents to settling insurance claims, dash cams cater to crucial needs in today's day and age. Due to these reasons, they are no longer a luxury but a necessity for every car.
Apart from identifying sources that put your car's safety at risk, dash cams can also help you record sudden altercations with malicious parties. You can then use these recordings in order to follow up in legal proceedings. In a nutshell, these cameras give you and your loved ones something to fall back on in case of unforeseen events. 
While dash cams had initially been manufactured for mostly newer vehicles, they have now also become available for older models. This allows for more customization opportunities across various types of vehicles. Some of the most popular dash cams are made by APEMAN, VanTop, and Vantrue.
With the popularity of dash cams and their integration with smartphones, getting them fitted into older vehicles has also become a walk in the park. In fact, it's so easy that you can do this all by yourself. That's why, dash cams have shot to the top of customization trends this year. 
2. Interior LED Lighting
Want your car to look like it's right out of a futuristic utopia? With everything that's happening in the world, no one can really blame you for holding out hope for the future. 
While making your car hover like a spacecraft is far from possible at this point, you can still install upgrades that fulfill this requirement. 
That's where interior LED lighting comes in.
Available in mostly neon colors, this LED lighting can be installed along the edges of your car's inner interface or under its seats. From your dashboard to your doors, it creates a feeling of traveling in a transportation pod of the future rather than a conventional car of the present. 
If that sounds like something that's right up your alley, then you may definitely want to witness it in person, or better yet, in your car. 
LED Lighting is a bit trickier to install than most customization equipment, but it's not impossible to have it fixed in most cars. All you need is a credible provider and a high quality LED lighting kit. From there, the process becomes quite easy to complete and gives you your own futuristic car to cruise around the streets of LA. 
3. Decals and Wraps
It goes without saying that driving your own car in Los Angeles is a smart choice. While you need to put up with traffic issues here and there, it saves you from going through public transport as well as its associated long wait lines and crowded spaces. Not to mention, it is something that has taken even more importance in the light of COVID-19.
In order to be more confident in their decision or just to show off their personality through their car, most vehicle owners in LA turn towards decals and car wraps. 
If you are one such vehicle owner with a desire to display your connection to your vehicle, you will be happy to know that it's a customization trend that has stood against the test of time. Several auto body experts in the city perform extensive decals and car wrap jobs on a regular basis for all types of auto enthusiasts, and take pride in the work that they do. 
While a professional car wrap job virtually transforms your car, it is not the only way to go. In case you want a simple decal for your rear window, you can order it from a marketplace such as Etsy. This gives your car a hint of personalization with minimal spending. 
While decals and car wraps have long stood as perhaps the biggest display of car customization, getting one for your own vehicle completely depends upon your own preference. If you are comfortable with a modified aesthetic, then these auto body modifications are definitely the way to go.
4. Digital Infotainment Systems
Newer cars bring cutting edge tech to the table, and make you feel like you are driving a vehicle that is in line with the current times. It adds to your overall sense of comfort, and lets you use the latest safety, navigation, and entertainment functionalities. 
But what if you drive a classic muscle car around LA streets? Do you simply walk out of the automobile tech circle? Do you not use the functionalities that are available to everyone who owns a new car? 
With the help of aftermarket digital infotainment systems, you don't have to ask those lamentful questions anymore. 
With products from credible manufacturers such as Sony, Kenwood, and Jensen, you can find something that fits classic cars dating back a few decades. These systems can easily sync with your cell phone and use the latest entertainment and navigation formats to help you be one with the times, no matter the kind of car you drive. 
This is especially helpful for auto enthusiasts in Los Angeles who love older cars. Whether you identify as a muscle car aficionado or simply drive a classic car due to emotional value, you no longer have to compromise on your aesthetic just to get a few functionalities through newer models. 
5. Mini Fridges
Before COVID-19 hit Los Angeles and California, most of us were looking forward to a summer full of outings and road trips. That's why, the trend to install mini fridges had caught on in these warmer parts of the U.S. 
While the novel coronavirus shelved outing plans for the foreseeable future, the trend has stuck due to its long term capabilities. 
Think about it. With the option of having nowhere to go amid social distancing, the functionality to carry your favorite drinks and snacks for a mini trip seems incredibly fitting. It is quite apt for driving across LA neighborhoods, even if your travels are restricted to grocery runs throughout the town. 
The fact that mini fridges are no longer restricted to high end cars makes this upgrade all the more appealing. Bringing a taste of luxury to even the most pocket-friendly vehicles, mini fridges seem to be worth the investment for many auto aficionados. 
These mini fridges are available through online and specialized vendors such as Cooluli. They are also easy to carry, which adds to their overall hype for many car owners. Through their different sizes, you can easily find a model that fits perfectly into your car's interior structure. 
6. Lowered Suspension
All true auto enthusiasts know that a lowered suspension is key to a smoother driving experience. With better handling, improved speed, and increased traction, a lowered car provides you with a variety of benefits that don't come with a conventional suspension set up. Car owners in Los Angeles are no different. 
If you are looking for a better driving experience, then you can get lowered suspension for your car quite easily. The overall extent of the suspension job depends upon your liking, but it also needs input from a professional mechanic. Together, you can both make the decision about what's best for your car as well as your driving style. 
Lowered suspension also comes with better aesthetics. A lowered car looks fresh off the race track and ready to leave its mark upon the road. If you amp it up through protective and design additions such as bumper lips, you get yourself a car that looks unbeatable with its overall modern structure.
With that being said, lowered suspension does come with a few shortcomings. For instance, you need to be extra careful while driving over speed bumps, cruising along the curbside, and getting your vehicle onto driveways. It's because lowered suspension makes your car's undercarriage prone to collisions against the road, which calls for more caution from your end.
But if you practice caution, you can easily get used to the careful driving routine and enjoy all the benefits that lowered suspension has to offer.
7. Smart Assistants
Did you always dream of driving a supercar that merely has to listen to you to carry out your commands? With smart assistant integration, you can fulfill this dream without breaking the bank. 
As a customization trend that fits LA's jam-packed traffic lifestyle, smart assistants bring a sense of comfort to your drives. With a voice assistant at your disposal, you will no longer have to juggle between operating your phone and keeping an eye on traffic lights. 
Want to listen to music? Just ask your smart assistant to stream it for you. Need to hear an audiobook chapter? Simply pass a command to your voice assistant. Want to know what the local LA radio is airing about the city? All you have to do is say the word. 
The most popular smart assistant deems to be Amazon Echo Auto that comes with the assistive power of Alexa. By connecting with your phone, the system lets you turn your drives into a highly futuristic experience. With a co-pilot as smart as Alexa, what else could you want to upgrade your older car? 
Apart from Amazon Alexa, you can also find smart assistants in the form of Apple Siri or Google Assistant in the form of Apple CarPlay and Android Auto, respectively. But keep in mind that these systems are dependent on newer cars' infrastructure. 
8. GPS Trackers
Driving in LA traffic cannot only be frustrating due to the overwhelming amount of cars, but it can also be problematic due to frequent parking issues. If you have recently moved to LA, you may still be wrapping your head around laws such as the 72-hour limit on parking, after which your car is towed without any warning.
That's why, customization options that let you track your car are highly sought after by car owners in LA. Thanks to the increasing focus on auto tech, you can find devices that plug into your car and connect to your phone for easy location tracking. 
These devices are available for new and older cars alike, and come from many different vendors. You can either search for highly rated products such as those from MasTrack, or have a discussion with your mechanic to get a recommendation according to your needs.
Along with tracking, some of these devices also bring additional functionalities to the table such as maintenance management and inspection reminders. This goes a long way into helping you stay on top of your car's health. This is another reason why these devices are gaining popularity among LA drivers.
9. Seat Covers
As a classic car trend that is known for its dual functionality of comfort and style, seat covers have long been on the radar of many auto enthusiasts. 
The current times haven't been able to dampen the appeal of this upgrade. On the contrary, the customization trend has only caught on with people paying more attention to their car's state and overall looks. 
There are good reasons behind this. With their overall structure and design, seats are often the first thing to catch your eye within a car's interior. Even when you put the visual appeal on the backburner, they are definitely the main component that the driver and passengers can feel through every second of their ride. 
This is why, upgrading the aesthetic and comfort level of these seats through high end covers goes a long way. In many aspects, this gives your car a whole new look through a single upgrade. 
The only thing that you need to remember for this customization trend is that it needs to be performed by a professional who knows what they are doing. This allows you to not only pick a cover material that fits your aesthetic, but which also holds its own against your frequency of usage. As a result, you can get the most out of this customization trend and enjoy it for the long haul. 
10. Exterior Lighting
We covered interior LED lighting in order to show off your LA personality, but what about flaunting the same vibes through your car's exterior? 
Enter exterior lighting modifications. 
According to California state law that also applies to Los Angeles, exterior lights other than headlights are allowed on vehicles as long as they follow a few rules. 
The additional lights should have a diffused and nonglaring glow.

The additional fixtures should not emit more than 0.05 candela/sq. Inch.

The exterior lights should not be fixed in a way where the vehicle's front shows a red light.

The lights should not resemble the colors of law enforcement agencies. 
This makes way for a number of exterior lighting setups, the most popular of which are neon underglow that gives your car a futuristic aesthetic.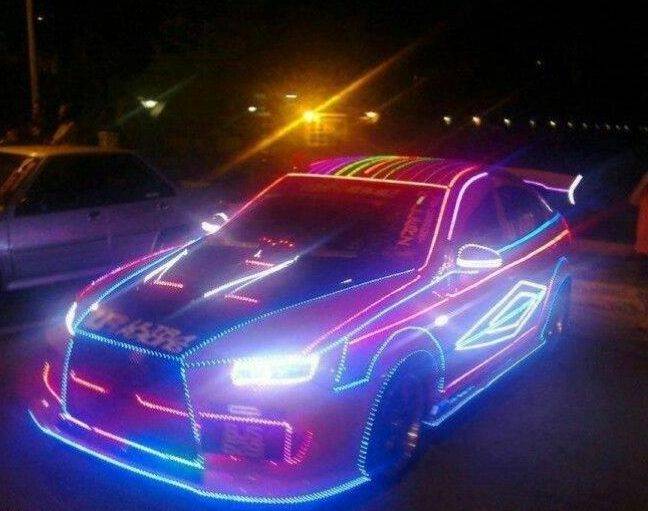 Since this particular customization asks for careful installation, it is recommended that you have it done through a professional who knows what they are doing. This allows you to give your car a wholly different look while also ensuring that you aren't landing on the wrong side of the law. 
When done properly, exterior lighting customization makes your car stand apart from other vehicles on the road. If you pair this customization with suitable decals or car wraps, you can flaunt a unique design that can't be found anywhere else.
Need Further Help? Speak to an Expert
Whether you lean towards functionality-based customizations or aesthetic-based modifications, you can safely make these changes or additions to your car. The key is for you to be comfortable with the customizations yourself. As long as you feel the joy in enhancing your car with these modifications, you will be able to get the most out of your investment. 
If you need any help or advice in making the most suitable customizations to your car, it's recommended that you reach out to an expert in the field. This makes sure that you are making all your decisions in light of informed opinions.
For further reading, check out our latest post: Where to Find the Best Car Customization in Los Angeles.
If you're in Los Angeles, here's a list of the services we provide  Did you enjoy this article? Check out our blog. Have questions? Contact us.