Car auctions are a looked over means of acquiring vehicles. Costing a fraction of the price you are likely to find at a used car dealership or with a private seller, it is one of the best places to go for affordability. Since they are typically acquired through impounds where vehicles have been abandoned, there is a wide range of vehicles available with something to suit everyone's needs. If you are trying to experience a car auction, you will have to find one that is open to the public. The following is an overview of 6 car auctions in Los Angeles that are open to the public:
1)
City of Long Beach Police Auto Auction
The City of Long Beach Police Auto Auction is open to the public and held every other Tuesday. At this auction vehicles are sold in a competitive open bid auction, with the highest bidder being the buyer. Any vehicle that is purchased here is bought "as is, where is", meaning there are no refunds or warranties.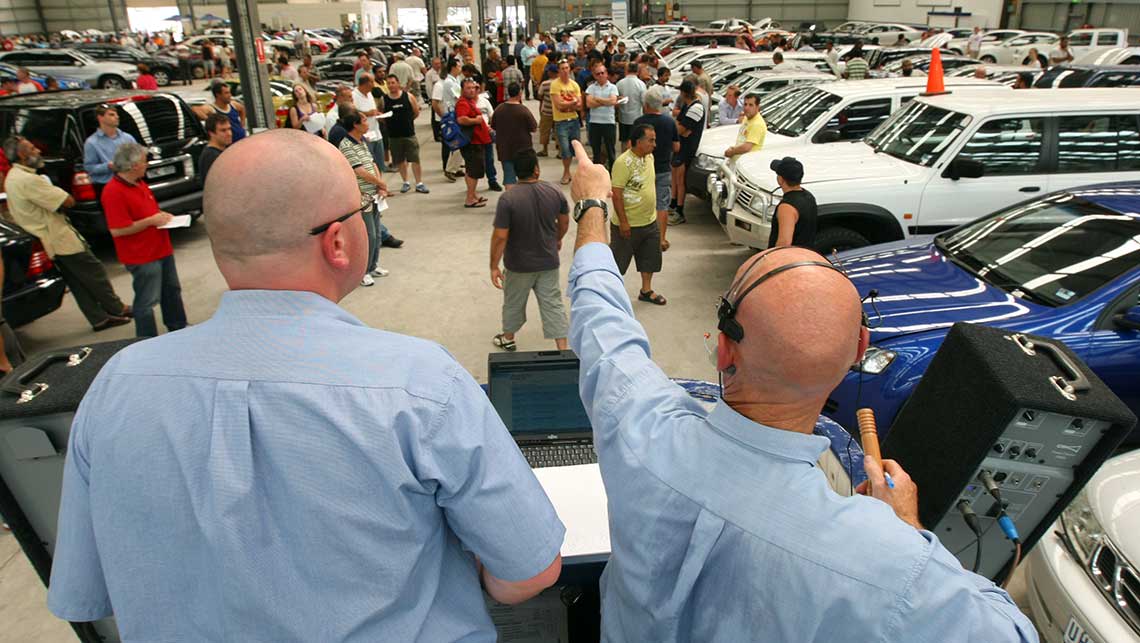 The City of Long Beach Police Auto Auction is located at 3111 E. Willow Street, Long Beach, but you can not just show up to this auction. You first have to pre-register and pay a $29 bidder's fee. Alternatively, you can skip the registration and fee if you just want to spectate, but you cannot change your mind if you see something you like. Other rules include being at least 18 years old or older, no pets besides service animals, no video or still photography, and no open toed shoes or sandals.
The gates open at 8:00 a.m. allowing you to browse the available vehicles and inspect them, with the auction itself starting at 9:50 a.m. The City of Long Beach Police Auto Auction follows COVID 19 guidelines, making it one of the fun things to do in LA during the pandemic. These guidelines include limiting capacity to 60 participants, enforcing social distancing, and requiring masks.
2)
Joe Bradley Auctioneers
Joe Bradley Auctioneers provide auction services all over the area and auction off several categories of goods such as coins, cameras, and jewelry, instruments and antiques, boats, and vehicles. For example, one of their auto auctions is sponsored by Steve's Towing at 42620 Rio Nedo Road in Temecula. Other locations where there are upcoming auto auctions open to the public include Oceanside, and Chula Vista. To see where they are going to be and when, check out their calendar.
Before you can bid, you have to make a $200 dollar cash deposit at these auctions, and all items must be paid for by the end of the auction. They also will charge you a storage fee if you do not have the vehicle removed from the premises in the amount of time they specify (such as having the vehicle moved by Monday that was bought during a Saturday auction).
3)
Keystone Towing Auction
Located at 16139 Stagg Street in Van Nuys, Keystone Towing Auction is completely free and open to the public every Thursday. With vehicle viewing beginning at 6:30 p.m. and bidding starting at 7:30 p.m., the Keystone Towing Auto Auction is one of many options of places to go by car in Los Angeles at night if you are looking for something to do.
Because of COVID 19, all auctions at Keystone Towing Auction are being held online currently, though they will go back to being in person as the pandemic comes to a close. Before you can start bidding on these abandoned vehicles at Keystone's impound facility, you must register. If you are the highest bidder, the vehicle you purchased will be released the next day (Friday) between 8 a.m. and 2 p.m.
4)
Hollywood Tow Service Auction
Since they are the official towing partner for the City of West Hollywood and handle parking enforcement, Hollywood Tow Service ends up with a lot of vehicles on their hands. This means more for you to inspect and possibly bid on at this auction located at 1015 N. Mansfield Avenue in Los Angeles.
On every Thursday at 8:30 a.m. inspection of the available vehicles begins. At 10:00 a.m., the bidding starts. Hollywood Tow Service Auction will also make it clear to the bidder if the vehicle will not pass smog checks as they are before purchase, allowing for you to stay in compliance with new driving laws in California for 2021.
5)
Bill and Wag's Towing Auction
Unlike the other auto auctions on this list so far, Bill and Wag's Towing Auction located at 1516 South Bon view Avenue in California's Ontario is a silent auction. Bill and Wag's Towing provides a lot of services including Haz-Mat services, private party impounding, and light, medium, and heavy towing services, allowing for a wide range of vehicle types present during their auto auction.
As part of their private party impounding services, they work in cooperation with the Apartment Association of Greater Inland Empire and the Condominium Association Institute of Inland Empire, which is where many of their vehicles are acquired from. You can see the weekly available vehicles here, which are updated every Tuesday after each auction.
Every Tuesday between the hours of 8 a.m. and 5 p.m., you can view the cars available and make your bid. On the following day Bill and Wag's Towing Auction will call whoever placed the winning bids. If you are not really comfortable with the highly competitive nature of open auctions, this may be the perfect opportunity for you to be involved without that component!
6)
Viertel's Central Division Area One
Viertel's Central Division Area One is one of the 18 City of Los Angeles Official Police Garages that has auctions open to the public. To participate you must have a valid driver license or a state issued identification card but there is no bidder's fee, nor a deposit required. This particular Official Police Garage is located at 403 West Avenue 33 in Los Angeles.
Preview inspections are not allowed before the day of the auction, so it is important to get there on time to see what vehicles are available. Auctions are held here every Friday (except holidays) with inspections beginning at 9 a.m. and bidding starting at 10 a.m. Any payments have to be made at the final bid. 
After the auction don't forget to check out Sticker City, here's a full list of the services we provide.  Did you enjoy this article? Check out our blog. Have questions? Contact us.