Both liquid car wraps and vinyl car wraps can be great investments if you want to temporarily change the appearance of your vehicle while providing some protection without affecting your vehicle's resale value. Liquid wraps can utilize anything from Plasti-Dip that you can purchase at your local auto parts or home improvement store, to Halo EFX and AutoFlex Coatings and other high quality polymer coatings. This type of wrap acts like a sort of removable paint.
Vehicle vinyl wrap, on the other hand, uses PVC vinyl to change up the look of your vehicle. Because of the difference in material and application, there are instances where liquid wrap may be a better option and other instances where vinyl wrap is. The following are things to consider before choosing between liquid wraps and vinyl wraps.
What Look Are You Going For?
Both liquid wraps and vinyl wraps have many different color and finish options, including, but not limited to satin, semi-gloss, and high-gloss finishes. Metallic, pearlescent, and color shifting options are also available with both types of wraps. Although liquid wraps with matte or other flat finishes exist, typically vinyl wraps do a better job for those types of finishes.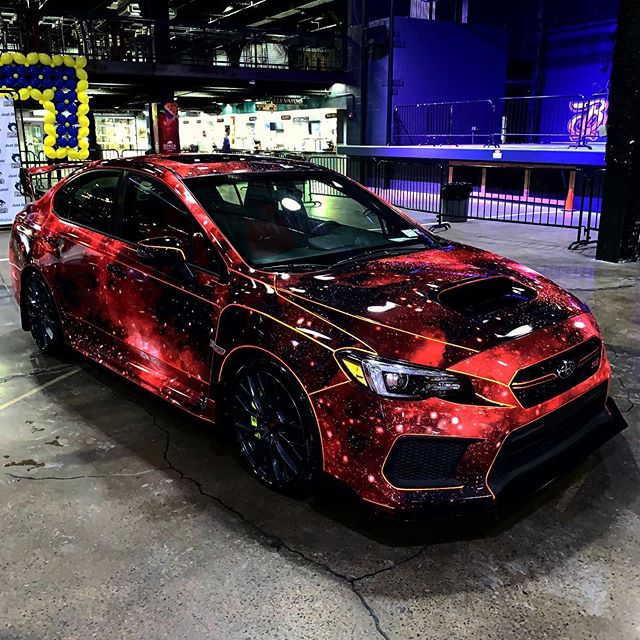 Another thing to consider is that most liquid wraps are not able to exactly match your factory paint, so if you are doing it for protective purposes and want your vehicle to look exactly as it did before, liquid wraps are not the option for you. Similarly, you can not simply wrap just one panel with liquid wraps and expect it to blend in perfectly with the surrounding paint. Of course, they can use a close color, or install a clear vinyl wrap. For this application, paint protection film should be considered instead of wraps.
Finally, if you want a pattern such as carbon fiber or brushed titanium or even animal print, you will have no choice but to go for vinyl wrap as this is not possible with liquid wraps since liquid wraps are sprayed on. Vinyl wraps can be any pattern and can even have pictures printed on the vinyl before installation. This is great for business advertising purposes and costs significantly less than having your company logo painted on your vehicle.
Which Parts of Your Vehicle Do You Want Wrapped?
Liquid wraps are applied by spraying several layers of the polymer on top of one another making a sort of "skin" on your vehicle's paint. Because of this, there will never be seams with liquid wraps. Vinyl wraps should also be free of visible seams, but it is possible with less experienced installers. No matter which one you pick, both are acceptable for full body wrap jobs.  
With this being said, you may think that liquid wraps would cost less when wondering about how much it costs to vinyl wrap a roof in Los Angeles, but this is not the case. Because of how vinyl wraps are applied, applying them to just one panel or section of your vehicle is significantly easier, and that is usually reflected in the price. Vinyl wraps are often better for wrapping only a portion of the vehicle's exterior, though either will work.
On the other hand, liquid wraps can be used in areas that vinyl wraps are typically not used, such as for wheel wraps, brake caliper wraps, and interior trim wraps. If you want to wrap something other than the painted surfaces of the exterior of your vehicle, you will want to use a liquid wrap.
What Level of Protection Do You Expect?
Since the wrap is providing a barrier between your vehicle's paint and clear coat, and the outside elements and possible dangers on the road, some level of protection will be provided by either type of wrap, with both types being very durable.  Liquid wraps, with several coats of polymer applied, are a couple times thicker than vinyl wrap, making it somewhat more resistant to light damage such as light impact, scratches, and rock chips. It is worth noting, though, that not all liquid wraps are resistant to solvents and gases.
If your main concern is protection but you still want to change the color of your vehicle with a wrap, you should look into ceramic coatings. Ceramic coatings can be applied over wraps and can actually extend their lifespans because it keeps them from drying out over time. XPEL's Fusion Plus Ceramic Coating, for example, can provide the perfect amount of protection to your wrap and underlying paint.
This ceramic coating resists scrapes, abrasions, and impact, acting as armor for your liquid or vinyl wrap. On top of that, it protects it from the sun's UV rays that leads to fading and drying, and makes cleaning your car significantly easier since it makes your vehicle essentially non-stick. Being both hydrophobic and oleophobic it keeps corrosive and hazardous substances away from your wrap and paint by repelling oil and water.
How Long Do You Want it to Last?
One of the main reasons for getting a wrap is that it is removable and will not affect the resale value. In fact, it is possible to wrap some leased vehicles because of the removability. Fortunately, if you want to keep your wrap for a longer period of time, most wraps will give you several years of enjoyment before needing to be replaced.
High quality vinyl wraps, such as those by 3M and KPMF, last about 3 years for a vehicle that is driven daily. Lifespans of liquid wraps vary widely depending on the polymer used and can be as little as under a year to up to 5 years in some cases. Of course, if you have ceramic coating applied, your wrap will last much longer.
Removal
When you have your wrap removed, no matter which type you get, there should not be any damage to your paint so long as there was no paint damage when it was applied. If you had paint damage or a ding that had been puttied before getting your vinyl installed, the damage may be made worse when the wrap is removed because it may have stuck to the body filler or lose paint chips. If this is not the case for you, then removal should be simple.
One advantage of liquid wraps over vinyl wraps is that many of them can be removed at home, though some are recommended to be removed professionally. Whichever is the case, there is no adhesive used in application of liquid wraps so there is no adhesive to be removed at the end. Clear bras and vinyl are affixed to your vehicle using adhesives, so when it comes time to remove it, there is often a bit of work required to scrub it all off. It will not affect your paint, and the auto shop that you bring it to will have no trouble removing it, but it should be removed by a professional for this reason. 
For more information on vinyl wraps and some samples of our work, click this link.
Additionally, here's a full list of the services we provide.  Did you enjoy this article? Check out our blog. Have questions? Contact us.